USDA Prime Steakhouse
Welcome to Bistro 90, where we take pride in serving the highest quality U.S.D.A. Prime steaks, the freshest seafood, and providing an unforgettable culinary experience. Since opening our doors in 2008, we have been a local's favorite, known for our exceptional cuts of beef, extensive bourbon and wine list, and unmatched hospitality.
Located only minutes from Highway 17 in North Myrtle Beach, it is just far enough to avoid summertime beach traffic and close enough for a quick 10–15 minute drive from the Beach, Grande Dunes, Tanger Outlets, or Main Street in North Myrtle Beach.
We believe quality is paramount. We source EXCLUSIVELY U.S.D.A. Prime, dry-aged steaks, which are renowned for their exceptional marbling, tenderness, and rich flavor. U.S.D.A. Prime steaks represent only the top 2% of all beef in the United States. Bistro 90 is proud to be one of only three restaurants on the Grand Strand to serve all U.S.D.A. Prime Beef.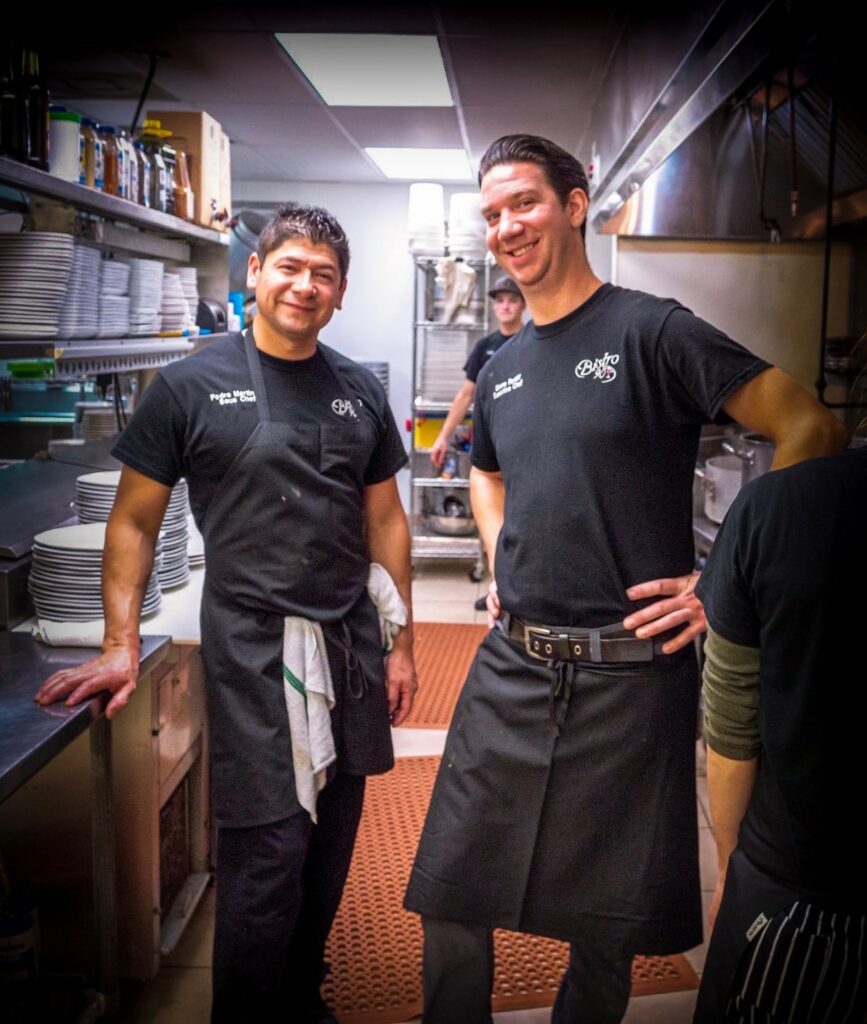 Our Executive Chef Shane Ratliff and Sous Chef Pedro Martinez meticulously prepare each steak to perfection, ensuring that every bite is better than the next. In addition to our steaks, we are proud to source our Seafood from only the best locations. Some client favorites are Chilean Sea Bass, Faroe Island Salmon, and U-10 New Bedford Scallops. We source only domestic shrimp & calamari.
We take great pride in curating an ever-evolving, and very extensive bourbon and wine list. Boasting over 140 bourbons, 40 Single Malt Scotches, and 425 wine selections, there is no doubt you'll find what you're looking for. Whether you're a bourbon connoisseur looking for a rare and aged whiskey or a wine enthusiast seeking the perfect accompaniment to your meal, our carefully curated collection offers something for everyone. We are extremely proud to be awarded Wine Spectator's Award of Excellence consecutively since 2013. The past two years we have been one of four restaurants within 150 miles to receive the coveted Two Glass Award.
For over 15 years, we have dedicated ourselves to providing an unparalleled dining experience. From the moment you step through our doors, Roland (Owner & Proprietor) or Andrew (Managing Partner) will ensure that your every need is met, creating a warm and inviting atmosphere for you to enjoy your meal. Whether you're celebrating a special occasion, enjoying a night out with friends, or simply indulging in a memorable dining experience, our steakhouse is the perfect destination.
Bistro 90… 'Truly A Cut Above'